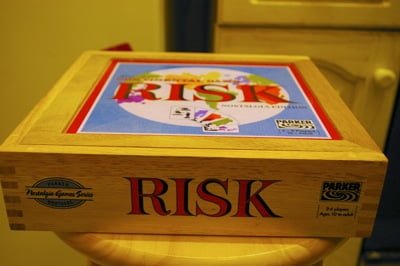 It is possible that entrepreneurships have to face a greater number of risks than many businesses that are established. We have to remember that a newborn enterprise has to enter and survive in a world where there exists a number of businesses that have been established for a long time, are recognized and have financial resources. This is why an important part of the business plan is to recognize which are the possible risks that can affect the entrepreneurship. Even though this is very important it is not enough. That is why I will present the steps you must follow after you have recognized the most important risks your business might face.
The first step once you have recognized the risks your business might face is to calculate the probability that these risks occur. In order to do this you must determine a scale. The scale normally will go between 0,0 where it is not likely that the risk occurs and 1,0 where is certain the risk will occur. Having into account the scale and the likelihood that it might occur you may proceed to score the list of risks.
In the second step you must calculate the impact of the risk in case it materializes. In this phase you must also establish a scale in order to score each risk. The scale can be between 0,0 to 1,0 as the probability scale or other type of scale for example 1 to 5. The important thing is to know which values indicate a high, medium and low value of impact. In order to be able to score each risk you may establish criteria that are relevant for you. For instance if the cost is important to your business you might determine that if the event occurs and it costs your enterprise a number between $0-$10.000 it is a low impact, if it costs between $10.001-$100.000 is medium impact and $100.001 or more is high impact. This is just one type of criterion; you may take into account as much criteria as you wish.
Once you have scored the risks according to the probability of occurrence and impact, you must determine the level of risk. In order to do this first you have to establish the levels of risk for each combination of probability and impact. A risk matrix helps you in order to accomplish this task. The next image is an example of a risk matrix.
Example Risk Level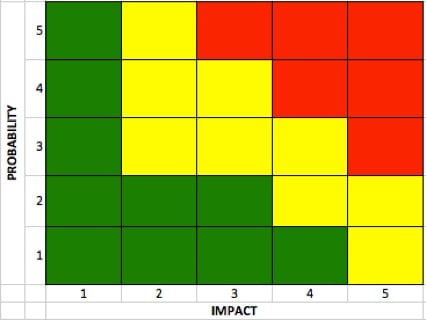 The last step is to place each risk in the matrix according to the probability and impact score. This would show us not only the level for each risk but also the overall result for all the risks on our business. In this way if we have many risks but all of them are in a green level we don't have to worry as much as if we have a great number of risks in yellow or red.
Image taken from Flickr.com