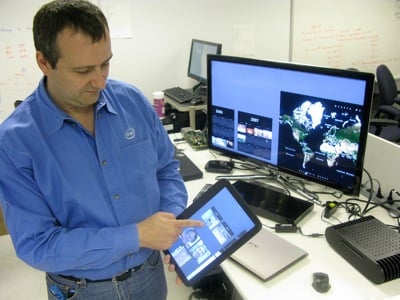 In this series of articles I started writing a couple of weeks ago, I've been writing about technologies that help in the daily life of every entrepreneur. In the previous article I talked about computers and today I'll introduce a close relative, the Tablet.
In the last 5 years, Tablets have created a whole new marketplace, taking by storm the PC landscape. Although many Tablet users still utilize this apparatus to play, browse the Internet and other second level activities, I believe they have the ability to make us more productive. If we learn how to use them, Tablets can help us in our daily shores and entrepreneurs can use them for many different tasks. Plus its small size is a great advantage that is not shared by most computers.
I'm going to tell you how I'm using my Tablet today, so you can take advantage of this story. For many years I've been using a laptop mac as my main computer. I love my mac and until a few years ago I took it everywhere. I had a briefcase to carry it, which wasn't that big, but anyway it was bulky. For example if I was able to walk to meet a client, the bag was a little bit heavy and not the best solution. But I was forced to carry it, as my mac had all the important information.
About 2 years ago I decided to buy a Tablet. My idea was to stop carrying my mac to every meeting, and instead, carry the Tablet. Initially I had a case and carried the Tablet with my hand. Last year I purchased a mini bag, which just fits the Tablet and a couple of accessories, something that is great, stylish and weights just a few grams (I can barely notice the weight).
So today I rarely takeout my mac; basically the only time I carry it, is when I travel outside of the city. I use the Tablet to take notes with Evernote, which automatically syncs with their cloud and other devices, something that I love. Second, I use it to display Office and PDF documents, which are actually on my mac, but which are sync to Dropbox over the Internet. I carry a small Mifi, and I always have an Internet connection to make the sync possible, at least where my internet/telephone carrier has good coverage. Plus if I need anything else, I have online access to my email, Internet in general, and more.
This alternative to use the Tablet as my main travel business aid has been very productive for me. Its lightweight, long battery life, beautiful screen resolution and more have made it an absolute winner for me. I clarify that my mac is still my main technology apparatus, but for travel it is the Tablet, which paired makes a winner team.
I invite you to analyze how this technology can benefit you and make your life easier. I can't imagine living without my Tablet as it makes life easier, more flexible and more. Plus, last year I added a keyboard case, which makes the Tablet even more productive than what it use to be.
Image taken from Flickr.com